The Preferred Team for Air Duct Cleaning in Phoenix, AZ, and Other Areas We Serve
Your air ducts usually operate behind the scenes. However, these out-of-sight, out-of-mind ducts play a significant role in the quality of the air you breathe inside your home. When they become dirty, these passageways distribute mold, bacteria, fungi, dust particles, and other pollutants throughout your home. Breathing these harmful substances can cause and worsen allergies and, even worse, cause severe respiratory problems, especially in children and the elderly. At Lincoln Air, we know the importance of regular air duct cleaning in Phoenix, AZ, and beyond.
We know how beneficial this can be, which is why we're committed to providing the best air duct cleaning services. In fact, we have been helping the local community maintain a safe and comfortable indoor environment since 2002 and intend to continue doing so in the long haul.
Importance of Professional Air Ducts Cleaning
Professional air duct cleaning will help improve or eliminate allergies, headaches, dizziness, and other health issues caused by dirty indoor air. Clean air ducts also enhance indoor air quality, creating a safe and healthier environment in your home. Having your ducts professionally cleaned also improves airflow and increases the efficiency of your HVAC equipment, making them less likely to develop mechanical issues and extending their lifespan. This increased efficiency also helps lower your energy bills.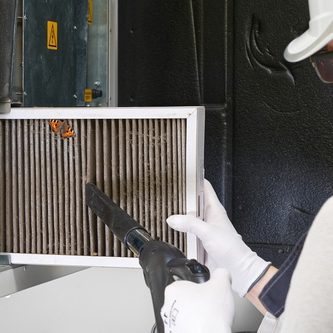 Warning Signs Your Air Ducts Need Repair or Replacement
Some signs of air duct repairs are not obvious, so they can be hard to spot. Our team lists a few tell-tale signs to watch out for to help you determine if you need HVAC services for your ductwork.
At Lincoln Air, we know the unique air quality needs of our Valley of the Sun clients, which is why we take specialized steps to perform duct cleaning in your home. Our air duct cleaners start the process by protecting your home and furnishings with plastic and tarps to prevent freed dust and dirt from settling. Next, we use our cutting-edge HEPA-filtered equipment to clean the air and surfaces of pollen, dust, and other allergens.
Our HVAC contractor will then connect our vacuum equipment and perform a compressed air flush to dislodge and remove debris from your air ducts. Finally, we sanitize your air ducts using our biocide treatment, which kills any mold or mold spores that could thrive inside your ducts.
Factory-trained technicians
100% Satisfaction Guaranteed
FAQs About Ductwork Cleaning
To learn more about our services or schedule an appointment, call Lincoln Air today. You may also reach our team by filling out the online form.