Reliable Furnace Replacement in Phoenix, AZ, and the Surrounding Areas
Before the colder days set in, it's crucial to make sure that your heating system can keep your family warm throughout the season. Whether you're looking at your first installation or want to replace your current unit, Lincoln Air is here to help. Our highly trained and experienced technicians are happy to discuss your needs and recommend the best furnace replacement in Phoenix, AZ, and nearby areas.
Since our inception over 20 years ago, our team has remained devoted to offering the most reliable heating services to be sure the members of our community are cared for throughout the year.
Benefits of Professional Furnace Replacement
Getting a furnace installation or replacement is more involved than removing the old one and plugging in the new one. Understanding how all the components work together to avoid loose parts or gas leaks is essential for a safe installation. Our technicians have years of training and experience to handle the work safely. We also have the necessary equipment for the job, so you can rest assured we'll perform a flawless installation of your new furnace so that it operates perfectly for years to come.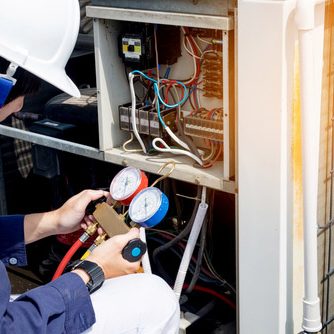 We'll thoroughly inspect and test your new system once installed to make sure it's ready to bring you the reliable and efficient comfort you crave. As a result, you'll not have to worry about any issues creeping up that need costly repairs to address. You'll also rest easy knowing that our professional HVAC contractor complies with building codes, manufacturer warranties, and home insurance policies.
Common Furnace System Problems
Whether you own a home or a commercial property, the same common problems plague furnaces. By identifying these common problems, you can take proactive measures to prevent them. Some of the issues that necessitate professional furnace repair include:
Serving Phoenix, AZ and surrounding areas
We offer furnace-related HVAC services in:
Signs Your Furnace Needs Servicing
Although you cannot predict when your furnace will stop working, there are signs that can let you know that you need to replace it or a heating repair is advisable. These include:
FAQs About Heating Replacement
When you choose Lincoln Air, you can be assured we won't miss any detail- from keeping your home clean and organized while working to verifying your new system. Our technicians are fully licensed and insured to conduct our furnace services, so you'll not have to worry about anything throughout the process. We guarantee to leave your unit running efficiently and dependably.
100% Satisfaction Guaranteed
Let Lincoln Air Address the Issues
Contact Lincoln Air when in need of furnace repairs or a replacement. Call us or fill out the form to schedule an appointment.