Thorough Drain Cleaning in Phoenix, AZ, and the Surrounding Areas
You depend on your sewer system to carry out routine chores in your household. If it clogs, you'll find it challenging, if not impossible, to shower, clean, and cook. If you ignore the drain long enough, serious problems can occur, leading to major repairs. Thankfully, Lincoln Air and Plumbing is here to keep your drains clog-free through regular inspection and care. We have been delivering professional and reliable drain cleaning in Phoenix, AZ, and nearby areas for over 20 years.
Benefits of Professional Drain Cleaning
Having your pipes professionally cleaned stops stoppages from forming in the first place and protects your lines from cracks and corrosion that lead to leaks. Professional drain cleaning services also help ensure your drains perform optimally and extend the productive life of your plumbing.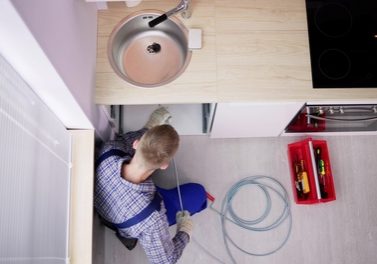 Why Sewer Cleaning Matters
Your sewer line can clog for various reasons. It can become compromised outside your property by soil erosion or tree root invasion. Aging pipes can narrow over time or relatively quickly due to the gradual and steady accumulation of grease, hair, soap scum, food particles, feminine products, and excessive tissue paper.
Regrettably, dealing with a clogged drain or pipe isn't something you can handle alone. Whether your sewer line is just starting to develop clogs or you have a full-blown emergency, we have the solutions you need to restore normal flow. We use safe and effective cleaning methods appropriate for the drain line needing attention.
Signs You Need Drain Cleaning
Although clogs can range in severity, it's essential to contact a skilled drain cleaning company at the first sign of one. The sooner you identify the signs of a blocked drain, the sooner our plumber in Phoenix, AZ can offer the services needed to avoid hazardous situations and costly repairs.
Contact Lincoln Air right away if you notice
A Look at the Drain Cleaning Process
We start by conducting a sewer camera inspection to see what's happening inside your pipes and identify the affected pipe. Depending on the condition of your pipes and the severity of the clog, we'll either recommend drain snaking or water jetting. These two cleaning methods are minimally invasive, eco-friendly, and guaranteed to eliminate even the toughest clogs and restore normal water flow.
Conscientious Team at Your Service
Working with Lincoln Air assures you of first-rate customer service coupled with:
100% satisfaction
guarantee
FAQs About Drain Cleaning
Contact the Sewer and Drain Cleaning Experts
Get in touch with Lincoln Air and Plumbing today to schedule your appointment for reliable and affordable drain cleaning services in the Valley of the Sun. Call us or fill out our convenient online form to reach out to our team.