Reliable AC Repair in Scottsdale, AZ
During summer, keeping your home at the temperature you and your loved ones feel comfortable is crucial. If you have learned you have an air conditioning-related issue that requires prompt repair, the first step is finding which company to contact. At Lincoln Air and Plumbing, our qualified technicians offer professional AC repair in Scottsdale, AZ. Whether your air conditioner is running at a low efficiency or not working at all, we'll provide you with the solution you need. No job is too large or small for our team, so you can rely on us to get your cooling system working as well as new.
Benefits of Our Services
Professional AC services offer you a one-time solution without the worry of resolving the same problem repeatedly. This service also helps extend the lifespan of your unit and keeps the manufacturer's warranty active. At Lincoln Air and Plumbing, our technicians have a keen eye for detail, accurately diagnosing the problem and offering a long-term solution. So, the next time your cooling system stops functioning suddenly, we'll be there for you. We're open 24/7/365 because we know that in the hot and humid weather of Scottsdale, an issue with an air conditioner is an emergency.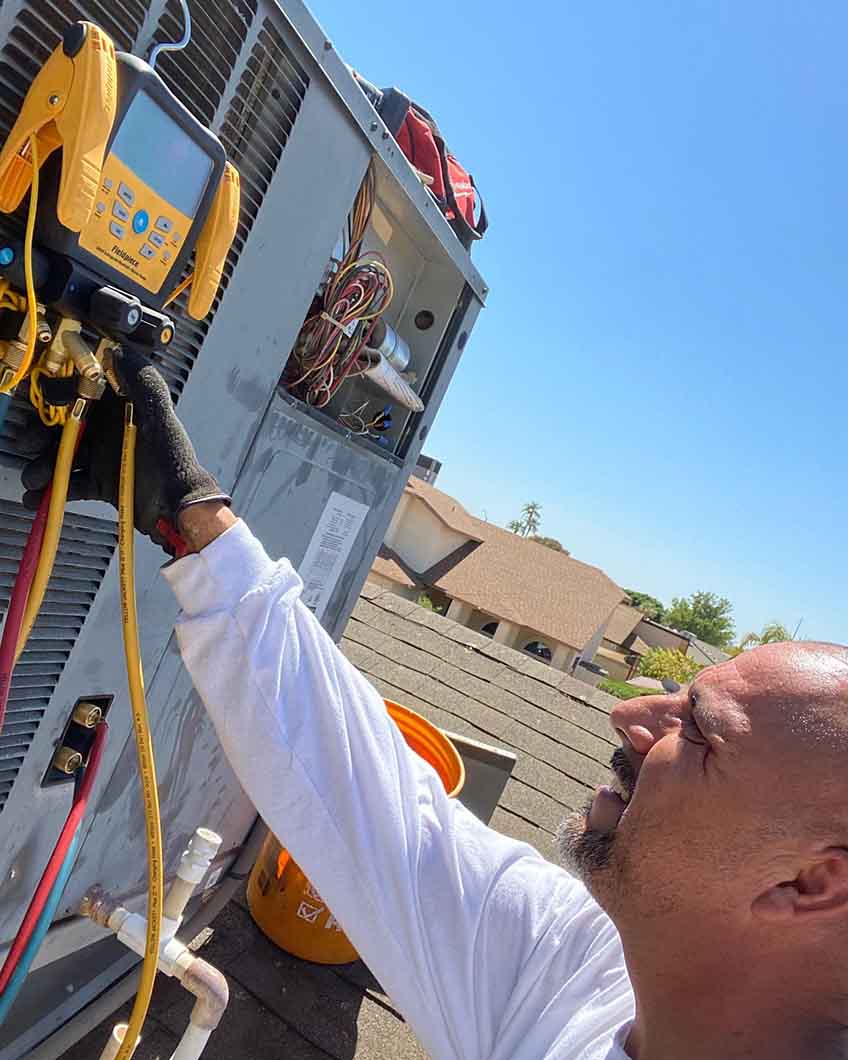 Signs You Need Air Conditioning Repair
An air conditioner needs prompt repairs when it stops functioning completely. In other cases, though, your system might work intermittently. If your system sometimes works, you might put off calling for professional repair services. However, contacting us for an inspection and AC maintenance or repair early allows us to catch and address minor problems before they become major.
Contact an HVAC contractor if you notice:
What to Expect from Our AC Repair and Replacement Process
When your air conditioner shows signs of deterioration, contact our team right away. We'll evaluate the situation over the phone with questions and explain your options. Next, we'll send out a highly trained, fully licensed, and friendly technician to see the problem up close. The technician will diagnose the problem and fix it right then and there.
If your system is too old and nearing the end of its service life, you may need an AC replacement. We'll help you explore the available options and find a model and make that best suits your budget and needs. We'll remove your old system and install the new unit according to the manufacturer's specifications. We'll also calibrate the system for maximum energy efficiency and convenience and show you how to program the thermostat for maximum comfort, rely on us to leave the working area clean and organized when done.
What Makes Us the Trusted Air Conditioning Repair Company?
When you work with us for an AC installation or repair, you'll always get:
Friendly customer service
Service from qualified and certified technicians
Have Us Address Your Air Conditioning Issues
Get in touch with the Lincoln Air and Plumbing team and expect only the best when it comes to air conditioning repairs in Scottsdale, AZ. Contact us today or fill out our convenient online form to schedule your appointment with our AC experts.