The Expert Team for Your Tankless Water Heater in Phoenix, AZ, and Nearby Areas
Are you in the market for a new water heating system? If you're searching for something that rides the line between high performance and energy efficiency, a tankless water heater in Phoenix, AZ, and nearby areas could be the ideal solution. At Lincoln Air and Plumbing, we provide comprehensive water heater services. We have been in business since 2002, so you can trust us for a well-done job.
Importance of Routine Maintenance
Like any other appliance in your home, your tankless water heater needs regular maintenance to operate smoothly. Flushing the unit yearly descales the pipes to boost performance and efficiency. Our technicians also check and adjust electrical connections to guarantee safe and reliable operation. If we discover an issue during the tankless water heater maintenance visit, we can make a repair there and then, leaving your unit in tip-top shape.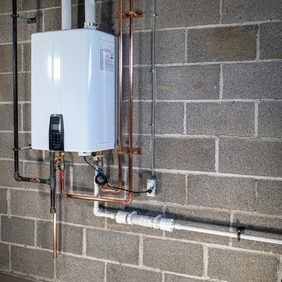 Signs You Need Tankless Water Heater Repair or Replacement
Although they are designed to last for years, tankless water heaters still experience problems from time to time. If yours has broken, contact us right away for immediate tankless water heater replacement or repair. We can diagnose and fix any problem you're experiencing with your unit. Call us if you're experiencing:
Our tankless water heater services are available to our clients in:
Benefits of Tankless Water Heaters
A tankless water heater offers a constant supply of hot water without the need for a storage tank. Also called on-demand water heater units, these systems produce hot water only when needed. This means they consume less energy than their tank-based counterparts, saving you money on energy bills. With a tankless water heater from your plumber in Phoenix, AZ, you'll also have adequate water for multiple chores, so you'll not have to worry about suddenly going without hot water. Also, these units are highly durable, lasting up to three times longer than conventional water heaters, and require minimal maintenance over their lifespan. Moreover, tankless models are easier to store and save you floor space due to their compact design.
Experience the Lincoln Air and Plumbing Difference
Why should you choose Lincoln Air and Plumbing for your tankless water heater installation, repair, and maintenance needs? We are:
Licensed, insured,
and bonded
A reputable company in the local area
Commonly Asked Questions About Tankless Water Heaters
Contact Us For Your Tankless Water Heater Concerns
To speak with an expert about your water heater repair needs or schedule an appointment, reach out to Lincoln Air and Plumbing. Call us or complete the online form to get started. We look forward to hearing from you.