Top-Rated Expert for Heating Repair in Phoenix, AZ, and Nearby Areas
Phoenix does experience cold days, and the last thing you'd want is to get home to a malfunctioning heating system. The next time your heat pump or furnace stops working, call Lincoln Air for prompt heating repair in Phoenix, AZ, and the surrounding areas. We have been helping Phoenix residents stay warm and comfortable on those chilly winter nights since 2002.
We can work on all heaters regardless of brand, make, or model. We always show up prepared to get to work, so you can count on us to leave your heating equipment operating at peak performance.
Importance of Professional Heating Repairs
Professional HVAC services are usually more cost-effective than you may realize. Working with a professional gives the peace of mind that comes with learning the problem will be accurately diagnosed and fixed correctly, saving you money in the long run. In addition, professional heating repair helps keep the manufacturer's warranty active, which enables you to avoid costly service and repair bills in the future.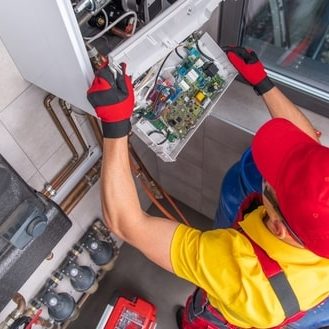 Most Common Heating Problems
In our over two decades of operation as an HVAC contractor, we have seen and addressed any heating problem imaginable. To ease your nerves about costly repairs or replacements, we list some of the common heating problems below:
These heating issues can cause discomfort and headaches over the cold season. Thankfully, our technicians possess all the tools and skills you need to get your heater up and running. No heating malfunction can intimidate our technicians, so don't hesitate to contact us for furnace replacement or repair.
Signs Your Heating Unit Needs to be Repaired or Replaced
Although most homeowners don't know the intricate ins and outs of fixing their heating system, there are some indications you have a problem that needs the attention of an expert.
Below are some of the warning signs:
Sometimes, you might get torn between heating installation and repair. The decision heavily relies on the condition of the system you already have. You'll need to consider if the existing heater's performance is satisfactory, as you can end up wasting a lot of money trying to keep the older system functional. It would be best to avoid a costly repair and buy a new, more efficient system. Our technicians will assess your old system and give the best advice so you can make an informed decision.
FAQs About Heating Repair
When you choose Lincoln Air and Plumbing for heating repair, you can expect:
Customer-oriented service
Service from fully trained, certified,
and licensed technicians
Same-day service
and 24-hour availability
Contact Us for All Heating-Related Needs
Call Lincoln Air and Plumbing to schedule your heating repair appointment today. You may also reach us by filling out the online form. We look forward to addressing your heating issues.